Google Images
While it is preseason, and the games do not count on their record, the New York Giants beat the Pittsburgh Steelers on Saturday night with a final score of 18-13. The game was not pretty, but the Giants did flash some signs of improvement from last year, as well as some things they need to work on.
The Giants starters on offense looked sharp for the first real test of action. After they failed to score on their first series, which started on the Steelers 5 yard line (due to Damontre Moore's blocked punt), Eli Manning and Victor Cruz hooked up for a 57-yard touchdown pass, picking up just where they left off. This was a breath of relief for the Giants, seeing that Cruz's contract drama seems to have no lingering effects on their QB/WR relationship. However, too many times last year the Giants were forced to kick field goals instead of punching the ball in for 6. This brings me to my next point, that although Cruz looked great while receiving a 57-yard touchdown, he still needs to improve his overall game. With 1st and goal on the Giants opening drive, Cruz missed a blocked, which resulted in a no gain. Cruz must take that extra responsibility in making that block, as they cannot afford to waist a play and have 2nd and goal. After 2 straight incompletions on 2nd and 3rd down, the Giants were forced to settle for 3.
Another offensive issue that the Giants ran into was their running game. You can see that David Wilson has an explosiveness that scares opposing defenses; the Giants just need to utilize it better. They did not control the line of scrimmage and as a result, the run game never got going. In all fairness, it was the first preseason game and the starters only played about 2-3 series, it is still an area of concern. On a positive note, another thing to keep an eye on is wide receiver Ruben Randle. After receiving all the first team reps in OTA's and practice due to Nicks' injury and Cruz's contract squabble, Randle showed why he has impressed the Giants coaches thus far. If Nicks, Cruz and Randle can stay healthy with a mix of David Wilson and Brandon Myers, the Giants have the potential to contain one of the most potent offenses in the NFL.
The Giants defense looked strong on their opening series, however they really struggled against the run. This is an area of concern the Giants had coming into this season, and that is why they brought in big bodies such as Cullen Jenkins, Shaun Rodgers and drafted Jonathon Hankins in the 2nd round. The Steelers racked up 81 rushing yards on 17 carries in the first half, without projected starter Le'Veon Bell. This is an area the Giants must improve on, or else it will be a long season for the Giants defense.
Damontre Moore showed why he had so much buzz about him during training camp. In his first professional NFL game, Moore blocked a punt, recorded 3 tackles, had a QB hit and multiple QB hurries. If he continues to play like this, look for the famed Giants 'NASCAR' to be in full effect. While he is still fighting Adrian Tracy for the 4th defensive end position, Moore and Pierre-Paul could give offensive coordinators nightmares, not including having to account for Mathias Kiwanuka and Justin Tuck as well.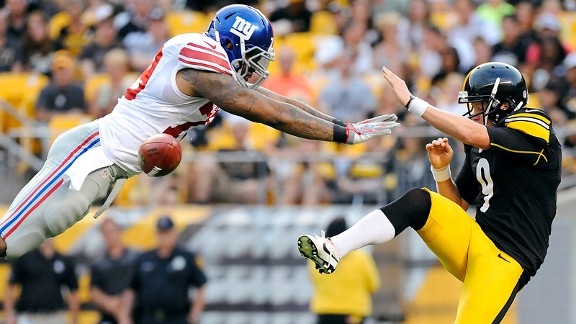 Newsday.com
Saturday, the linebacker position still did not give us too much clarification. With Mark Herzlich, Spencer Paysinger and Keith Rivers getting the starting nod; no one really separated themselves from the pack. As I mentioned before, the run defense still needs much improvements, and the linebackers are just as responsible for this as the defensive line. 3rd year linebacker Jacquian Williams had a strong game as well, showing what he can do when healthy. In 2011, during his rookie campaign, Williams was a major surprise for the Giants, and became very reliable down the stretch. After suffering a series of injuries last season, Williams was never able to regain that explosiveness that makes him so valuable.
In all, the Giants should be pleased after their first preseason game. When the coaches break down the game film, there is no doubt they will find areas that need improvement. Up next are the Indianapolis Colts on August 18th.
Justin Lerner: PureSportsNY