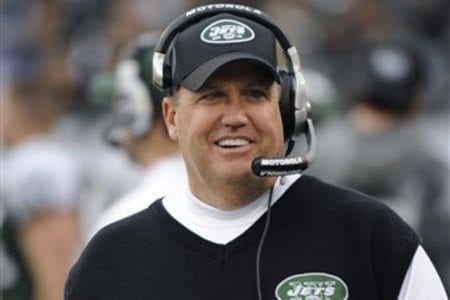 Whether you like it or not, Rex Ryan will voice his opinion one way or another.  It is unclear if his recent quotes, reported by Newsday are defending himself or trying to take shots at the Jets fan base.
As quoted by Newsday, Rex Ryan said after their final day of mini-camp, "I'm a hell of a lot better football coach than I'm given credit for." My father, along with Twyin Lannister (my fellow Game Of Thrones followers) always told me, if you have to say that you are great at something, 99 out of 100 times it usually means the opposite. My father told me that it shows you are insecure in your abilities, and true greatness is shown by actions, not words.
However, the better question is; is Rex Ryan really a 'good' coach? Yes, he did lead them to back-to-back AFC Championship games in 2009 and 2010, but he inherited a team that was mainly built on Eric Mangini's personnel. Rex Ryan inherited Darrelle Revis, David Harris, Nick Mangold and Shaun Ellis, all Mangini's players who played integral roles in achieving those 2 AFC Championship games. To date, Rex Ryan has not drafted any 'studs', albeit he is the Head Coach and not the General Manager. With that being said, he may have won over the locker room for those runs, but they were not his personnel.
Below are the draft picks under the Ryan regime (which are not very good);
2009:
QB Mark Sanchez
RB Shonn Greene
OL Matt Slauson
2010:
CB Kyle Wilson
OL Vladimir Ducasse
RB Joe McKnight
FB John Conner
2011:
DL Muhammad Wilkerson
NT Kenrick Ellis
RB Bilal Powell
WR Jeremy Kerley
QB Greg McElroy
WR Scotty McKnight
2012:
DL Quinton Coples
WR Stephen Hill
LB Demario Davis
S Josh Bush
RB Terrance Gannaway
OL Robert Griffin
S Antonio Allen
WR Jordan White
Rex cannot take all the blame for these picks, as I mentioned before he is not the GM. However, the last 3 drafts are utterly pathetic and it is way too early to judge the 2012 draft.
Newsday also quoted Rex saying, "I don't have to brag, even though statistically, I can brag about anything I've ever done defensively." To me, that seems like he is bragging and shows his  insecurity about keeping his job moving forward. He is reminiscing on past achievements as opposed to working on creating new achievements. Also, he may be right on being a great defensive coach, but as the Head Coach of a team, he must be a great offensive coach as well (or hire one to help him). If he wants to be a defensive coordinator, than that is fine, but to brag only about defense only while being a Head Coach, when football is a team sport  is unacceptable to me.
To further prove my point, he was also quoted by Newsday saying, "I don't care, I don't need the credit. But I can tell you one thing, when it's said and done, they'll look back and say, 'Oh man, this dude can coach his butt off.' And you know what? It's true. And I'll let the people that know best talk on my behalf about the kind of coach I am."
Rex undoubtedly will have a challenge this year to keep his title as Head Coach of the New York Jets. Entering his 5th season as Jets Head Coach, he can complain all he wants about the current roster, but he has to understand that this is the team that he put together, and has no one else to blame besides himself. The players seem to love playing for Rex, but in the NFL, it is wins and wins only that matter.
Justin Lerner: PureSportsNY